DairyLive Version 3.0 Ready!
Version 3.0 of DairyLive is now available!
Current DairyLive customers can update their existing DairyLive installation to version 3.0 using the DairyLive Update Wizard. From DairyLive, select Update DairyLive from the Tools menu. You must have a current technical support subscription in order to update to version 3.0. If you do not, please call 800-642-5808 to renew your technical support.
Trial version users may update to version 3.0 between now and the end of their trial date.
Version 3.0 has some exciting new features. For a full description, click here. The two most significant ones are: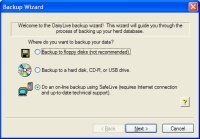 On-line backup of your herd database using DairyLive's on-line backup technology. You now have the option of backing up your database to the Internet using DairyLive's on-line backup service. Your data will be encrypted with a "security key" that you will choose. Then it is compressed and sent over the Internet where it is safely stored for later retrieval if necessary. The entire process is very streamlined. There are no floppy disks, CD-R's, or USB drives to fumble with and keep track of. Each DairyLive user has up to 2 megabytes of storage available, which can accommodate several backups, depending on your herd size. More space is available if needed.
Standard charts showing your herd's data against standard curves. You can compare your production data against various typical herds based on the area of the country that you live in and the average production per lactation of your cows. There are charts that show first lactation, second lactation, and later lactation cows. Each chart shows the curves representing "standard" herd data. You cows are shown as dots on the chart. Click on a dot to see the animal details for that cow. Version 3.0 includes several standard charts for lactation and heifer growth. You can create your own standard charts and use them to set and monitor goals for your herd.
Download a trial version of DairyLive 3.1
---
Home - Features - DairyLive Anywhere - Heifers - Top Ten - Back to top