DairyLive Anywhere
The name says it all. Now you can access your herd data and enter new data from wherever you are, right through your mobile phone browser or from any computer that has an Internet connection!
How Does It Work?
First of all, you will need to install the latest version of DairyLive. If you are a new user, just download the trial version from here. If you are a current customer, you can get the new version from here.
Next you will need to obtain a DairyLive Anywhere account. Go to here to submit your request. You will receive your user name and password within a few hours via e-mail. Be sure to keep your e-mail.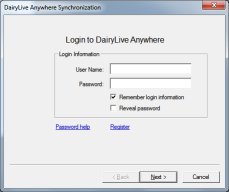 After you have installed DairyLive and updated or created your herd database, just go to the Tools menu and select "Synchronize with DairyLive Anywhere". Enter your DairyLive Anywhere user name and password and follow the instructions. You will want to click on Options and Checklists so that you can set up what you want to synchronize. Your selections will be remembered the next time you do a synchronization.
After you click Next in the final screen, your data will be sent to the DairyLive server. This may take a few minutes, depending on your Internet connection speed.
Now log into the DairyLive Anywhere web site. You can do this from a mobile phone browser or from any computer that has an Internet connection. The location is https://dairylive.com/anywhere/. Enter your user name and password, and then you will see your animal groups and check lists. Click (or tap) on any group or checklist to see the animals that belong to it.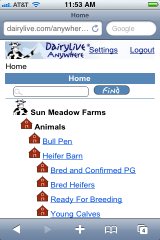 DairyLive Anywhere is easy to use. You can view the members of groups and checklists and enter new events for them, just like you were on your desktop. To enter an event for one or more animals in a checklist of group, select the checkbox next to each animal and click on the Add Event button at the bottom of the page. You will then be prompted for the event type, date, and other required information. The next time you synchronize your data from your desktop, the new events that you entered will be automatically downloaded to your PC.
---
Home - Features - Screenshots - Videos - Support - Trial - Purchase - FAQ - Privacy Policy - Back to top