DairyLive Version 5 Is Here!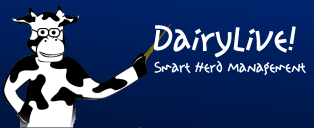 We have been hard at work on a brand new version of DairyLive. It is version 5 and we are pround to release it to our users. You can download a trial version of DairyLive 5 here.
On the outside you won't see much difference from our familiar and easy-to-use interface. On the inside, there are many changes, including a completely rebuilt database layer. Since 1999, DairyLive has used Microsoft's "jet" engine for its database management. Microsoft has "deprecated" this software, meaning that it is no longer improving it, and eventually it will completely drop support for it from Microsoft Windows. We have replaced Microsoft's "jet" engine with the popular open-source software called SQLite, used in thousands of products, some of which you probably already use. This allows us to deliver to you improved performance and stability for DairyLive.
DairyLive 5 has these features:
64-bit support. What does this mean to you? 64-bit operating systems have been around for a few years and virtually all new computers are now 64-bits. These newer computers are able to handle larger memory sizes and run programs faster than their 32-bit older cousins. You should see improved performance in DairyLive 5, especially if you have a large herd. (Note: You can also install a 32-bit version of DairyLive 5, which will run on Windows XP as well as 32-bit versions of Windows 7, 8, and 8.1.)
New looks. This version of DairyLive has newly design icons to make the program cleaner and less cluttered.
Integration with SCR's Dataflow II System. You can export your status data to SCR's Dataflow monitoring system. (Import from SCR is coming soon.)
Enterprise Edition. DairyLive can now be used in a multi-user configuration when the database resides on a network drive on the local area network (LAN). This capability requires the Enterprise edition.
Download a trial version of DairyLive 5.101
---
Home - Features - Screenshots - Videos - Support - Trial - Purchase - FAQ - Privacy Policy - Back to top